Is This Your Situation: Figuring out Tracking in QuickBooks
What is a class? When you use the class feature in QuickBooks, in addition to the item or account, you can also specify a class to a transaction. As an example, let's say you service and sell appliances. Perhaps you want to track the profitability of your service department versus your retail operation. By using classes, you can link each transaction to the service or the retail department (class in QuickBooks) and then view or filter for the profitability of each.  Read more at https://keeperofthebooksllc.com/2017/is-this-your-situation-figuring-out-tracking-in-quickbooks/
---
Custom Calculations — Abacus or Excel?
Want ultimate flexibility with your QuickBooks data? Try exporting your reports, lists or registers to Microsoft® Excel! Sometimes, you need to recreate a formula or change the appearance of a report in ways that are just not available within QuickBooks. Transferring data gives you the ability to work with the information in ways that would simply be impossible in QuickBooks.  Read more at https://keeperofthebooksllc.com/2016/custom-calculations-abacus-or-excel/
---
FAQs about Social Security Retirement Benefits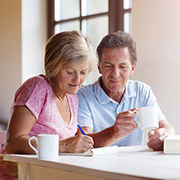 For years, people have questioned the long-term viability of the Social Security system. In June, the Social Security Board of Trustees released its annual report on the long-term financial status of the Social Security Trust Funds. It projects that the combined asset reserves of the Old-Age and Survivors Insurance and Disability Insurance (OASDI) Trust Funds will become depleted in 2034. Additionally, the Disability Insurance Trust Fund will become depleted in 2023.  Read more at https://keeperofthebooksllc.com/FAQ
---
Get Up and Running After a Disaster
If your business is hit by a hurricane, windstorm, blizzard, or other natural disaster, or if it falls victim to arson or terrorism, you might have to close up shop for a while. As a result, you could suffer a major loss of income.  Read more at https://keeperofthebooksllc.com/Blog
---
On the Road Again! Track Vehicle Mileage in QuickBooks
Using QuickBooks® to track your vehicle mileage, you can enter, sort and print lists of your vehicles and the mileage you've driven for work-related tasks.
You can then use this information for your tax deductions and for billing your customers.  Read more at https://keeperofthebooksllc.com/Blog
---